Offshore Fishing at its Finest
Book Your Outer Banks Fishing Charter on the Bi-Op-Sea!
Outer Banks Offshore Gulfstream Fishing at its Finest!
Offshore fishing on the Outer Banks of North Carolina is some of the best in the world. The combination of bottom structure on the continental shelf and the gulfstream current and eddies provide excellent year round deep sea fishing for blue marlin, white marlin, sailfish, yellowfin tuna, bigeye tuna, dolphin (mahi-mahi), wahoo and more. We are only 35 miles from the excellent sportfishing waters of the Gulf Stream.



Becky Rau
Brian and I just wanted to say thank you again for making our fishing experience a worthwhile one. We had a blast and couldn't have asked for a greater captain and first mate. I saw the picture of our "catch" on your website. 🙂 Our video actually turned out pretty well. We got some good shots despite the crazy splashing! Again, thanks so much. We had a wonderful time and will not ever forget it. Good luck the rest of this summer and I'll be sure to pass along our story & your boat to others who might be interested in a fishing experience. 🙂
Matthew M. McDavid
Thanks again for a great day last week. The whole gang and I had a blast, not to mention the first bill fish and another check off of life's little list. I will recommend your boat as much as I can up here and wish you the best. Hopefully fuel will behave and y'all can start making a little more coin. We will plan another trip soon. In fact, I am down there for a wedding on the 26th and may give you a buzz. Just wanted to say thanks for a great day! Be safe and keep the lines whistlin.
Thomas Keeton (aka) Capt. Skid
Capt. Jesse, again, thank you for a great offshore trip on 7/28/08. This wasn't my first trip by no means, but certainly ranks up near the top. Your mate that works the pit for you is definitely 1st class !!! I rank him at the top of mates I have fished with and you at the top of the Captain list. I was talking to Chris about the triple wrapped swivels he uses, which are a great idea. He told me where they come from, but I forgot. I would really appreciate it if you could maybe send me the maker of these swivels name, Chris said they were from Fla. but I don't remember. But at any rate, thanks again for a fantastic trip!!!!!
Steve Whitaker
Jessie, thanks for a great trip. Everyone had a good time. Also would you do me a favor and send me the pictures you took of the dolphin. We put up pictures of the trips we take and we were so slack we didn't even have a camera. I'll call you soon and let you know about the future trips we have booked with you. Thanks again!
Art & Cindy Leichter
Thank you and Chris very much for the great offshore fishing experience this past week. We feel very fortunate to have experienced the catch of a blue marlin and this 100% the result of Chris and your efforts and skill. We have been on many offshore trips and you guys demonstrated your abilities as well as your desire to be successful for the customer. Chris was the hardest working mate we have ever experienced. Thanks again. Here are some photos we captured from the day.
Clark Anderson
Thank you again for the fantastic big eye tuna catch last Thursday with Neil Miller. Chris was standing in front of me and fish when the picture was taken with my camera. I would be most appreciative if you could e-mail me a copy of the high resolution original that was posted on the Pirates Cove web site. Thanks again.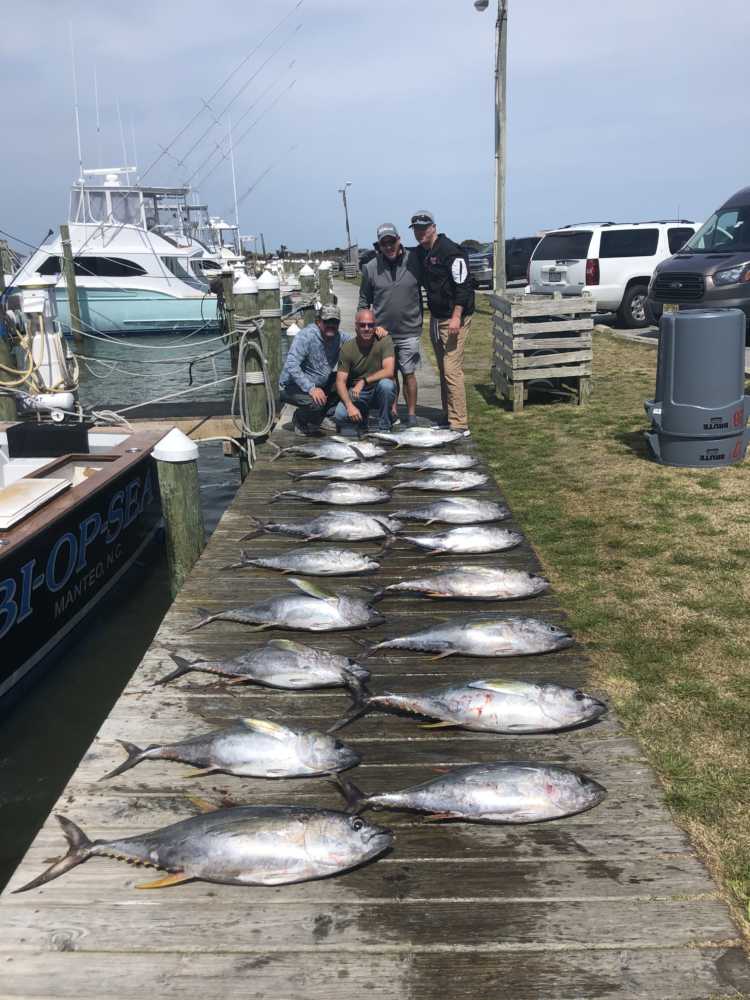 Last few trips
Been good yellowfin fishing overall last few trips.  Weather gonna keep us to dock then back at it Sunday.  Got a few days left in April give us a call...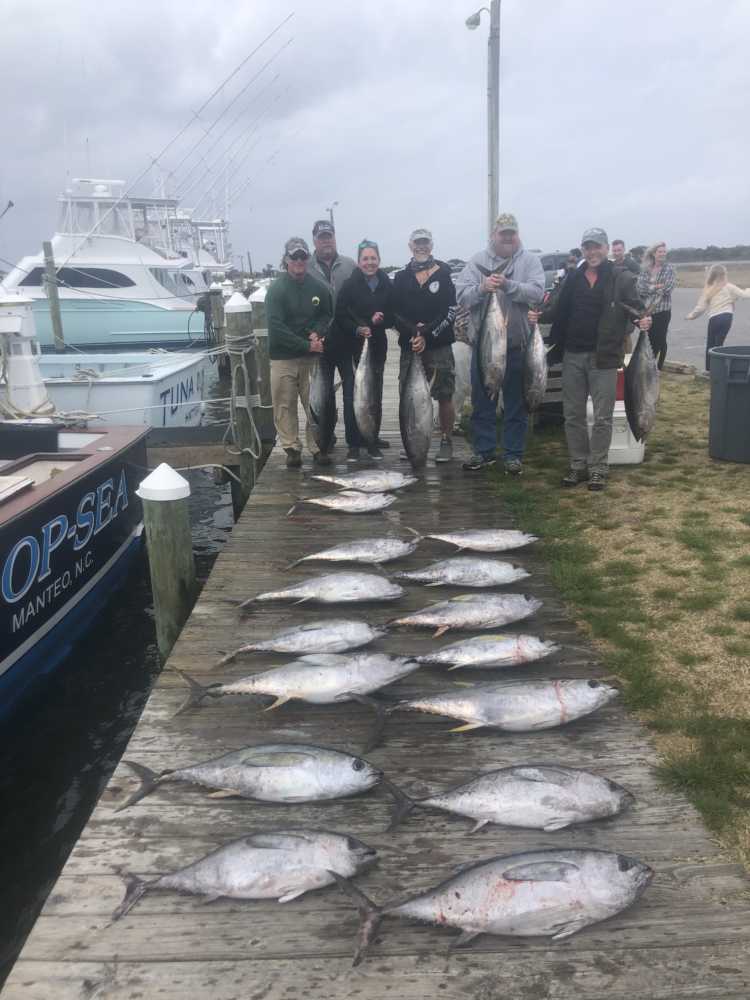 Good Yellowfin Fishing
Got a day in with Robert and crew before the blow comes.  Great yellowfin action and a few blackfins. Shaping up for good spring tuna fishing. Have some days left open this month and April give us a...